"…after being involved in the fellowship, Tulsa is not just a place I call home, but it is a home about which I understand the history, the social determinants, and the health disparities and is a place where I have and can continue to make a difference.  I am now actually and personally invested in Tulsa thanks to the Fellowship." —Shannon Delaney, Schweitzer Fellow 2016-17, Pediatric Resident Physician, OU Tulsa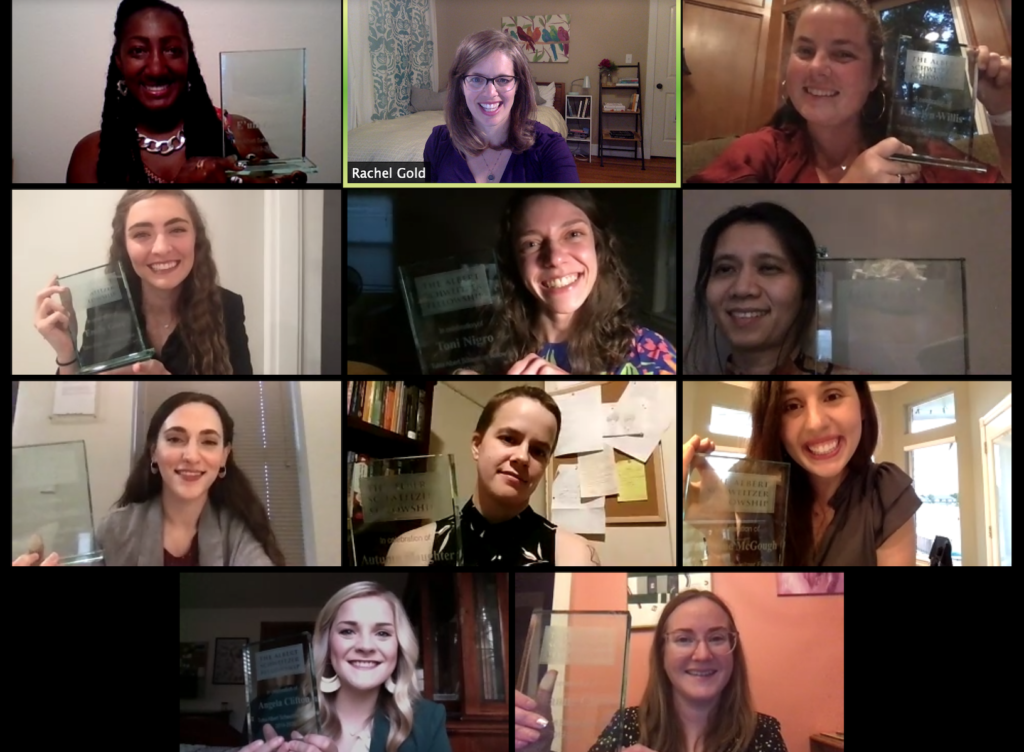 The Tulsa Albert Schweitzer Fellowship is one of thirteen Schweitzer program sites across the United States dedicated to developing a pipeline of healthcare leaders who enter the workforce with the skills, networks and confidence to address unmet health needs for underserved populations. Tulsa Fellows are graduate and professional degree students who are competitively chosen from Tulsa-area universities. Fellows come from a variety of academic disciplines, including medicine, social work, nursing, allied health, public health, fine art, law, athletic training and disability studies.
The Schweitzer Fellowship
The Tulsa Albert Schweitzer Fellowship is a one-year interdisciplinary Fellowship program that improves health outcomes for underserved populations in Tulsa. It does this through Fellow-initiated community collaborations to address unmet health needs and a leadership development program to support Fellows in building the skills, networks and confidence to address health disparities for the long-haul.
The mission of the Schweitzer Fellowship is to prepare the next generation of professionals to serve and empower vulnerable people to live healthier lives and create healthier communities. To accomplish this, the Fellows:
Apply their skills and knowledge in real-world situations;

Become culturally sensitive, compassionate and effective leaders;

Understand the impact of social determinants of health;

Build capacity and commitment to improve the health status of individuals and communities;

Work collaboratively and across disciplines in pursuit of a shared goal; and

Sharpen leadership skills so that they have the tools needed to impact and guide ongoing efforts and collaborations
Fellows receive a $3000 stipend.
Upon completion of the Fellowship, Fellows become Fellows for Life. As a Fellow for Life, each alumni of the program joins a network of colleagues around the country and world who are dedicated to- and skilled in- leading efforts to address the health needs of underserved communities.
Reach and Accomplishments
Since the Tulsa Fellowship launched, 86 Fellows have invested over 15,000 hours in the community, partnering with 53 organizations, these Fellows have addressed a wide variety of unmet health needs and opportunities through their year-long collaborations. Efforts have addressed a range of topics including:
Mental and behavioral health

Nutrition and wellness

Trauma-informed care

Child/adolescent health

Restorative Justice

Immigrant/refugee health

Health literacy and education

Chronic disease management
See past and current participating community sites here.
Over 70% of Schweitzer projects have been sustained beyond the Fellowship year. For a complete listing of current and past Fellows' projects see Fellows and Projects.
At the end of the Fellowship year, Fellows join the Fellows for Life community, a network of over 4000 like-minded professionals committed to the ongoing work of meeting the health needs of underserved individuals in the communities where they live.